Los Angeles Marketing Recruiters
When our headhunters make the perfect employer and employee match, we witness an impactful difference on our client companies. Execution in recruiting is what our Los Angeles marketing recruiters are known for.
More so than any other objective, we maintain a deep commitment to upgrading the quality of employees at our client companies.
Due to our meticulous staffing methods, our headhunters have successfully been finding LA job seekers long-term careers with Southern California's leading organizations.
Job Seekers Marketing Recruiter Information
Our Los Angeles marketing recruiters deal with all specialities.
From social media to digital media to e-commerce to product marketing, it is our recruitment pledge to find the right place for job seekers to grow.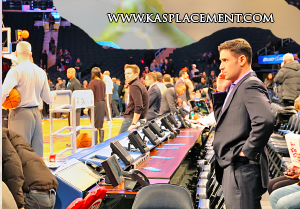 To provide a wide range of job choices, our recruiters work with organizations in over 100 unique, profit-generating industries. These companies are both national and global brands.
This provides any level of job seeker a multitude of career choices. In return, we expect the job seekers whom our LA recruiters work with to remain forward-thinking, hard working and passionate about their career.
In return for providing job seekers with access to some great minds and companies, we only ask that you are forward-thinking and determined. KAS Placement will help you realize your skills and values and set firm goals to attain while transitioning careers.
Employers Recruiting LA Marketing Professionals
An organization's image can either significantly benefit or tremendously hinder any firm's selling proposition. Our belief is that the most hard-working companies should settle for nothing less than top marketing job seekers.
For the past 10 years, our Los Angeles marketing recruiters have been extensively trained on how to procure job seekers who possess distinct traits coupled with an unrelenting work ethic.
Specially, our LA recruiters seek out individuals who:
are knowledgeable in their field
are also driven
passionate about their job
intelligent and autonomous
reliable in their work
With staffing marketing professionals, precision is crucial.
For companies to be at their best, efficient and accurate ways to locate and interview job seekers is the key success ingredient.
To ensure recruiting success, our marketing recruiters utilize over 15 different methods for procuring leading Los Angeles marketing job seekers.
It's KAS Placement's policy to maintain a close relationship with all clients as well as applicants.
Since 2005, our Los Angeles marketing recruiters have taken the time to understand each parties' needs and our headhunters relentlessly execute on marketing the right match.